My lil grip project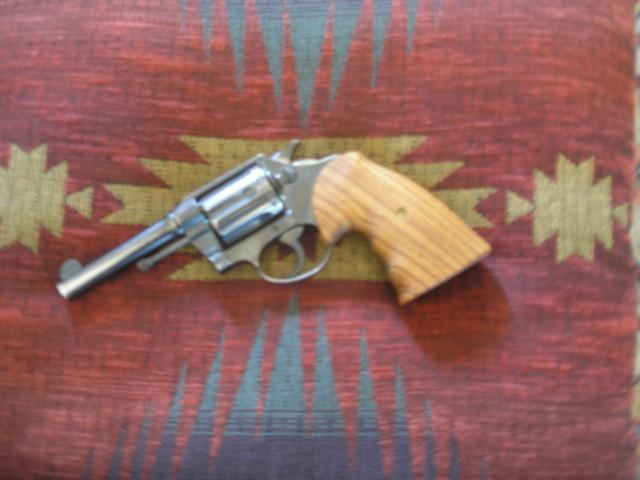 Sat, 06/04/2011 - 15:27
#1
My lil grip project
Gosh! I got so proud of myself finally figuring out how to post a photo that I plumb forget to apologize for poor picture quality. I'm one of those Fred Flintstone types who takes a picture of his thumb-as you can probably tell.
Sun, 06/05/2011 - 09:24
#2
My lil grip project
Hey those grips look pretty darn good!! Is this your first home made set. They look good, what wood did you use? And your picture is just fine, a little grainy but we can see the end result OK.
Sun, 06/05/2011 - 13:24
#3
Grip details
I started out with a set of rough cut blanks that were inletted for a different gun. I've looked for years to try to find good grips for the early Police Positive grip frame to no avail, so it was real leg work that finally turned up these rough cut blanks. Fortunately the escutcheon and screw fit into the frame without interfering with the mainspring-not by design, just dumb luck!
Right now, I've hand fitted a series of spacers out of red heart cedar-they keep the grips from moving, but I'm probably going to use acraglas once I'm done fiddling with the details.
The slight finger grooves were cut into the blanks using a dremel tool with a variety of different tips, and the blanks were fitted together using sanding blocks and various grits of sandpaper. I also used sandpaper free hand to get a better curve on the backstrap, and smooth the rough cuts.
I considered using stain and varnish, but I liked the figure, so I used artist grade linseed oil alone, and rubbed it into the wood rather than hide the contrast. I decided to forgo varnish as well, because I like the simple oil finish, and the porous surface offers better purchase than a super smooth one.
I've done some modest grip projects in the past, but this one is by far the most involved. It really has transformed my experience with the lil Colt. The factory grips were so small that I could not achieve a consistent hold-and inevitably, I'd have to wrap my fingers just so to get any purchase, and then the back of the trigger guard would sting me with each shot. Now I can actually aim and hit! I certainly am no Eagle, or Herrets', but its satisfying to have a successful project with one's own hands.