I'm hoping an expert or
three on this board can help me. I am a dealer/pistolsmith (part-time), and buy
and sell for some of my customers. I am asking here because my expertise is
making 1911s shoot into little groups, not hoglegs. I know SOME about SAAs, but
not nearly enough.
One of my customers is
clearing out the unused items in his safe, and this is the one that intrigues
me most.
It is a Colt SAA, looks like
first gen., has LOTS of holster wear, and has been reblued some time in its
life.
I have a Colt Archives
letter on the gun, and it is still in its original form: 4-3/4", .32-20,
shipped in 1905 to Hibbard, Spencer, Bartlett & Company (a hardware store
in Chicago that was the forerunner of Ace/True Value), grips not noted.
What confuses me most is the
serial number and added markings.
The first digit in the
serial number is a "2" but has been obviously stamped over a
"1". The "2" is in the same type font and size as the other "2" in
the serial number, and looks factory. It was odd enough so that a fellow from
The Colt Archives called me when I wanted info on the both numbers. We both
agreed that there is little reason for a manufacturer to restamp a gun with a
new serial number. I have a S&W target revolver that was sent back to the
factory and rebuilt into a different model (from stock model 10 to a
single-action-only match gun with target hammer and trigger) and in that case,
the model number under the crane was overstamped to the proper model
designation. But even in that case, the serial number wasn't touched.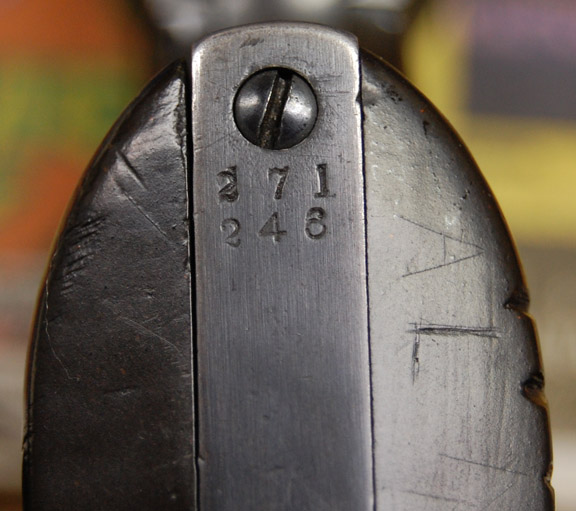 So the fellow at The Colt
Archives said he believed that the "1" was a mistake at the factory that the
factory corrected by overstamping with a "2" before shipping it, because The
Colt Archives has it listed in their records as "2______" in the configuration
I have it in.
Any of you pistoleros seen a
real SAA with overstamped serial numbers? If it can be confirmed that it is
stamped with the factory dies, does that hurt the value at all? Add to it?
Second, and separate from
the serial number, are the markings on it after it was purchased: "1G1"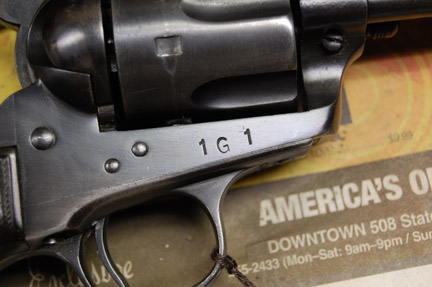 Anyone have any references
or knowledge of what that marking came from or was for? I'm guessing it would
be an armory or other inventory number, maybe even a police marking (although
I'd expect a "_PD" or some other department marking along with it).
Since it was purchased from
a retailer in Chicago and it was a .32-20, we can rule out most military
contracts. It spent a LOT of time in a holster (the ejector rod housing is
virtually rounded on the outside front edge, the barrel end is worn and there's
a tiny bit of pitting under some of the blue) and it's been handled a LOT (the
grips are almost completely smooth), but if the cylinder and barrel are
original (the barrel probably is looking at the wear, but it's beyond my
knowledge-base about how to tell if the cylinder is orig.), it was almost never
shot – the bore and chambers are gorgeous.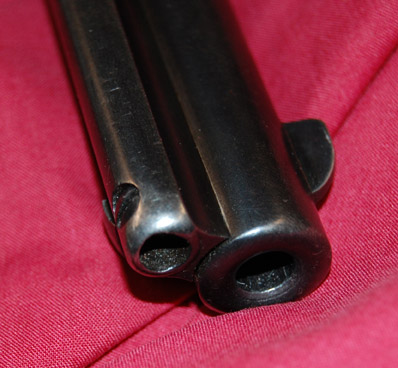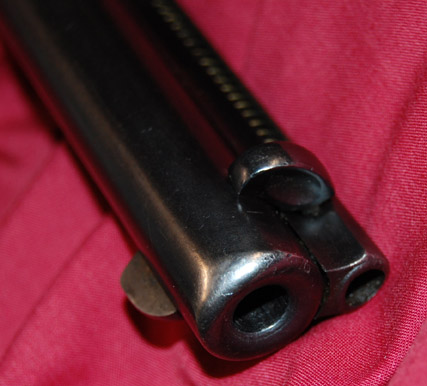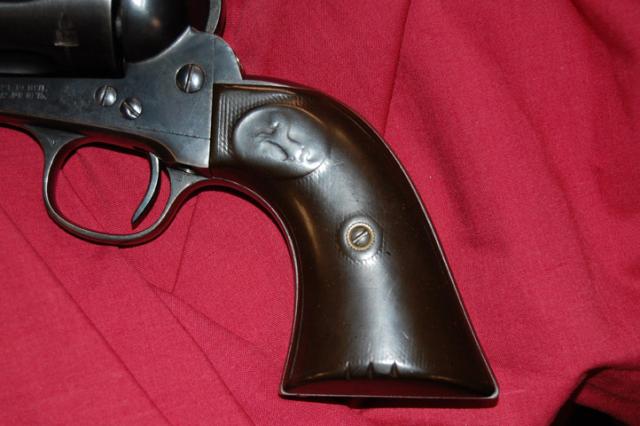 Bank guard? Private
Detectives a la Bannerman, or Wells Fargo or other shipping? Warehouse guards?
Prison (see "PS")?
Lastly, would it behoove me
to have it appraised? And who would you experts say is the best appraiser you
know, not because I think it's worth a fortune, but because it's a weird one,
and the appraiser would need to know about these guns' usages and places in
society, not just model changes and dates and metal and rubber and finishes …
PS: If you look at the photo
of the bottom serial number, you might notice that the inside/left grip has three notches in
it!
Best,
96wa6